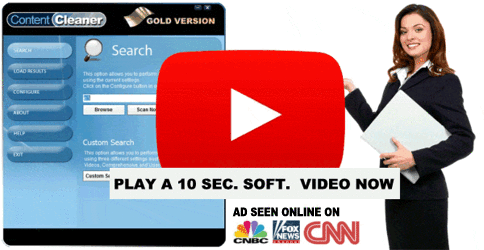 How to Delete Porn History, Images and Videos?
Delete Porn History

The steps to delete porn history depends on the browser you are using. Please note that these steps will delete all history and not just porn history. In addition, the deletion is not permanent and can be retrieved. To Permanently Delete Porn history, a specialized software like Content Cleaner is needed.

A. Google Chrome

1. First, on the top right of your browser, click on the wrench icon.
2. From the drop down menu, please select "Options"
3. Select the "Under the hood tab" from the option panel.
4. Last, your need to click on "Clear browsing data".

B. Mozilla FireFox

1. Using the short cut method. Delete all history by pressing "CTRL-SHIFT-DELETE"
2. Or, In the upper right corner, click on the history icon and select "Clear all history".

C. Internet Explorer

1. Click on "Tools" and select "Internet Options."
2. Click on "Delete" under "Browsing History".
3. Click on "Delete History" to delete all browsing history.

Deleting Porn Images and Videos

This method only deletes a fraction of porn images and videos that contain the words "porn" or "Sex" or other porn words in their name. For a comprehensive scanning and permanent deleting of porn images and videos a specialize software like Content Cleaner is needed.

1. Click on the Windows button in the lower right corner
2. Enter a possible porn related word ex "sex" and view the results that appear.
3. Delete porn results.

Caution: This method will miss porn image and videos that have non porn names ex. 1.jpg or 2.mpg. A specialized software like Content Cleaner utilizes an advanced algorithm to detect skin tone percentages, curvature to determine if an image is porn. The same algorithm is used for videos by examining frames in the video. Here is a full list of Content Cleaner features.